Product Description
Model NO.: XIOS PLUS
Certification: ISO, CE, FDA
Material: PVC
Medical Devices Reg./Record No.: Gsyjxjz-2013-2313281
Specification: 1, 2
Applicable Departments: Oral Rehabilitation Department
Type: X-Ray
Equipment
Medical Device Regulatory Type: Type 1
Trademark: Sirona
Origin: Germany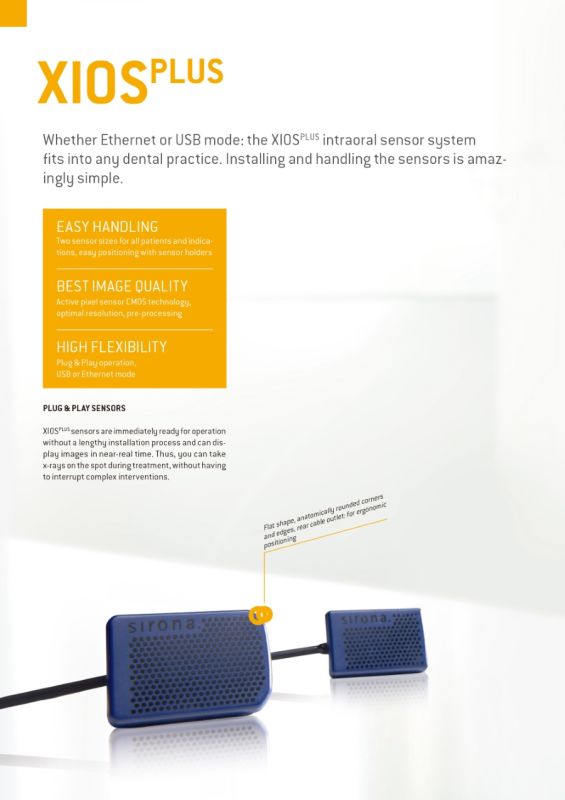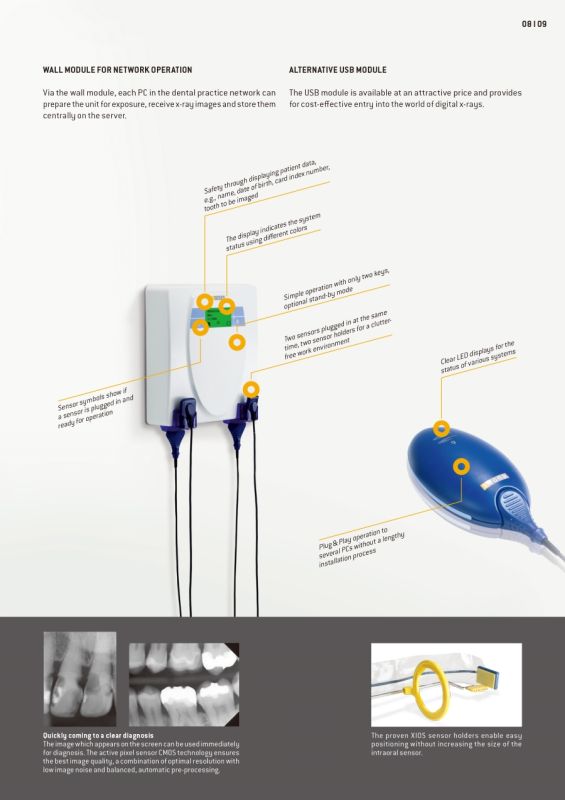 Indications
Images with XIOSPLUS intraoral sensors stand out due to their excellent quality. With their particular attention to detail, they facilitate diagnosis and make the system ideal for various indications.
Caries diagnosis
Generalized vertical and horizontal bone defects; calculus on tooth 24 distal; protruding fillings on teeth 25 and 27, extensive proximal caries on tooth 36 mesial.
Endodontics
Measurements:
distal 40/21 mm
mesio-lingual 35/21 mm
mesio-buccal 30/21 mm
Implantology
Status post-OP, correct implant position
Technial specifications of the XIOSPLUS system
Good to know. You can find all the important data and facts about the XIOSPLUS here.
Sensors
Sensor 1: Active surface20 × 30 mm
Sensor 1: External dimensions24,8 × 38,5 mm
Sensor 2: Active surface25,6 × 36 mm
Sensor 2: External dimensions31,3 × 44,5 mm
Pixel size15 µm
Sensor cable length3 m
USB module
Dimensions of USB module132 × 80 × 37 mm (H × B × T)
Weight of USB module104 g
USB port of USB moduleVersion 2.0 oder 1.0
Wall module
Dimensions of wall module23 × 21 × 6,3 cm (H × B × T)
Weight of wall module1,2 kg
Line voltage100 240 V, 50/60 Hz
Line voltage deviation± 10 %
System comparison PSP film scanner
System comparison of intraoral sensors vs. storage plate systems: Good reasons to decide on a fully digital intraoral sensor system from Sirona.
Sirona intraoral sensorsStorage plate
Service life and image qualityUnlimited use with consistent vivid image quality.Storage plates scratch easily and image quality is significantly impaired after just 50 uses.
WorkflowEasy and fast X-ray image is available on the PC just a few seconds after activating the image.Lengthy and inconvenient use, after activating the image, the storage plate first needs to be read by the scanner before it is up on the screen for diagnosis. The scanner cannot be used for new images during this process.
DiagnosticsImages give a realistic overview of the jaw situation the perfect foundation for a proper diagnosis.Storage plates can be easily bent. The images can show a distorted anatomy, which negatively impacts the diagnosis and treatment.
HygieneThe sensors are always used with a hygienic one-time protective sleeve with openings outside of the patient's mouth.The opening of the protective sleeve for the storage plates is put in the patient's mouth, which often impedes proper closing.
CostsOne-time investment.Continuous costs due to replacement of storage plates.
Whether USB or network you can customize the system to YOUR practice.
The wall module with its network connection and multicolored display is an elegant look for the practice network. The USB alternative is a flexible and portable solution.
Immediate access to the practice network
The wall module can be operated from every PC in the practice network. Data storage is carried out centrally on the server so that it can be accessed at a later date from any PC.
Complete flexibility with the USB module
The Plug & Play USB sensor system can be used on several PCs without a lengthy installation process. It can be installed and operated with USB 2.0 connections, as well as via the USB interfaces of the TENEO and SINIUS treatment centers.
Reliability in the daily routine
The display of the wall module shows different patient information to prevent mix-ups. The background colors of the display let you see the status of the unit at a glance. Automatic sensor recognition displays whether a sensor is connected and ready for use.
Contact us if you need more details on Intra Oral Sensor. We are ready to answer your questions on packaging, logistics, certification or any other aspects about Sirona X Ray Sensor、Dental Rvg. If these products fail to match your need, please contact us and we would like to provide relevant information.
Product Categories : Dental Radiography > Dental Radiography Equipment